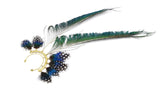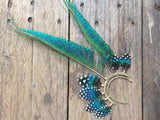 Peacock Sword Metal Ear Cuff
SKU: ECM5-AW2022
The Peacock Sword Metal Ear Cuff is the perfect blend of elegance and edge. The beautiful feathers are ethically sourced and produce a look that is both chic and unique. The wire and brass are adjustable, so you can mould it to fit your ear comfortably. 
Diameter 5" 
Designed for right ear
This stunning ear cuff is made with ethically sourced feathers that have been upcycled from small chicken farms or the fly fishing industry in Kenya. No birds were harmed intentionally for their feathers.