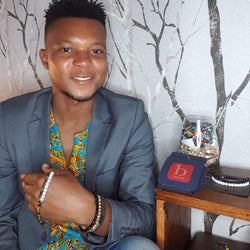 From the workshop of Katlego Mashilane. Beadz by Flex is a sustainable jewelry brand, exploring the beauty of beaded jewelry through the mixture of metals and semi-precious gemstones. 
Founded 2015 in Johannesburg, South Africa, the brand 
features Mashilane's meticulous craftsmanship brought to life through one-of-a-kind beaded gemstone bracelets, and a collection of hand carved 18k gold plate brass beaded bracelets, known as "Bopilwe."