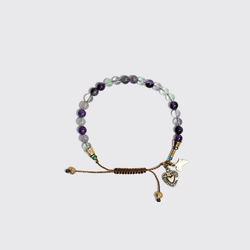 LOVE DOT, Inc.
Flux (Fluorite)
The Fluorite Stone is a multi-colored mineral that is known for its powerful energetic healing properties and mesmerizing physical beauty.
The origin of the word "fluorite" comes from the Latin word flux, which means to flow interchangeably. This word both refers to the way in which fluorite's colors seem to shift and blend in the light, as well as the way it unblocks stagnant energy and promotes energetic flow.

Each bracelet is crafted using ethically sourced brass, metals, and gemstones. The bracelet is available only in a 6mm bead size.

The adjustable opening makes it easy to accommodate most wrist sizes. 
Diameter: min 5 inches - 9.5 inches max or (127mm - 228mm)

Fully adjustable 'Macrame style' closure 

Matte Finish

Handmade in Johannesburg, SA