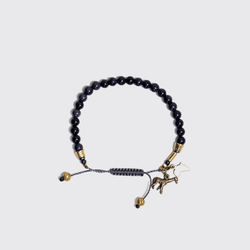 LOVE DOT, Inc.
The Companion Stone (Blue Sandstone/ Blue Goldstone)
You can't help but trust your instincts while wearing this bracelet. Labradorite is the stone of truth and intuition. Believed to help people overcome fear, the stone has a calming effect on those with overactive minds. 
Each bracelet is crafted using ethically sourced brass, metals, and gemstones. The bracelet is available only in a 6mm bead size. It is adorned by a brass charm of continental Africa and an antelope.
The adjustable opening makes it easy to accommodate most wrist sizes. 
Diameter: min 5 inches - 9.5 inches max or (127mm - 228mm)

Fully adjustable 'Macrame style' closure 

High polish finish

Handmade in Johannesburg, SA