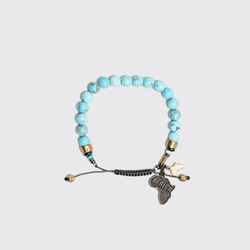 LOVE DOT, Inc.
The Soul stone (TURQUOISE)
Turquoise can be found as far as the mountains of Nova Scotia to the parched dunes of Namibia. It's exotic and one of the oldest healing stones in history. 
Each bracelet is crafted using ethically sourced brass, metals, and gemstones. Bracelet is available only in an 8mm bead size and is adorned by two brass Africa charms.
The adjustable opening makes it easy to accommodate most wrist sizes. 
Diameter: min 5 inches - 9.5 inches max or (127mm - 228mm)

Fully adjustable 'Macrame style' closure 

High polish finish

Handmade in Johannesburg, SA