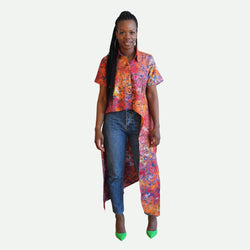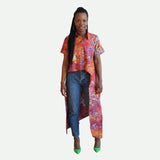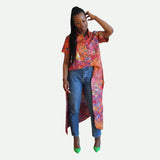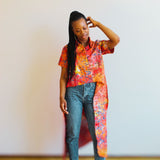 Hi-Lo Manyeyo Batik Shirt
SKU: LDGH_GS_MULTICOLO
Handmade in Ghana.
You need a top like this in your closet for summer. Its asymmetrical design is a unique touch. Designed and made in Ghana by up-and-coming designer, Manyeyo, every aspect of this top is handmade. From the locally produced Batik fabric to the sewing, to the fabric buttons.
It's the perfect statement piece to make a boring pair of shorts, pants, or a skirt look interesting.
Material: Ghanaian Cotton
Fabric: Custom Batik, made by Exmac Batik
Button up front with fabric buttons 
Available in XS - 3XL
Please note that the Batik process is a 100% natural wax and fabric dying technique. This means that the depth of color and patterns for each garment may slightly vary.