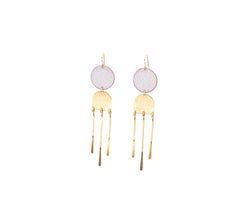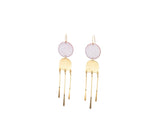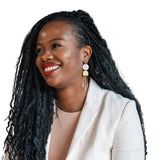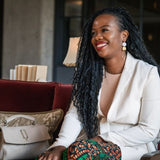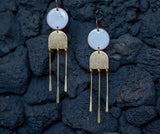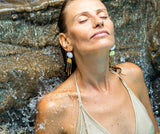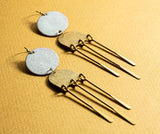 IVY
Cafe Earrings
SKU: CAFE
IVY jewelry is a handmade, sustainable jewelry line birthed from the imagination of San Francisco based designer, Chelsey Greene. 
Each piece is one-of-a-kind, created by an enameling process where glass is fused onto geometric brass or copper elements. Each earring is finished with gold filler ear wires. 
The Cafe Earrings also utilize a special technique called sgraffito, a form of decorative pattern design where a pattern texture is made by scratching through the top enamel to reveal an underlying layer of contrasting color.
Drop Earrings
Dimensions - 3.3" x 0.7"
Enameled Copper, Brass, Gold fill ear wires.
Handmade and designed with joy. Click video to watch how IVY Handmade earrings are made.