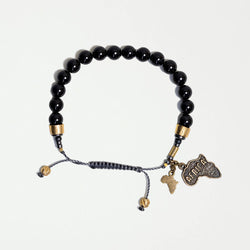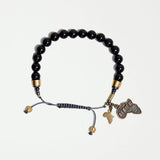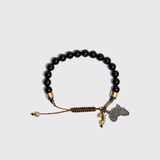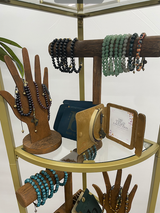 LOVE DOT, Inc.
Black Vibranium (Obsidian)
SKU: LDBBF_AC_01
Obsidian is formed by the quick cooling of volcanic lava causing it to harden like glass. It has been around since the beginning of time and has been used in trading by the Mayans since 100 B.C.
Born from the raw energy of a volcano, it is the stone of strength and protection. Each bracelet is crafted using ethically sourced brass, metals, and gemstones. The bracelet is available only in an 8mm bead size and is adorned by two brass Africa charms.
The adjustable opening makes it easy to accommodate most wrist sizes. 
Diameter: min 5 inches - 9.5 inches max or (127mm - 228mm)

Fully adjustable 'Macrame style' closure 

High polish finish

Handmade in Johannesburg, SA