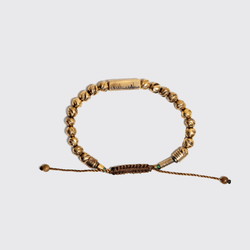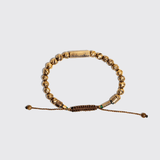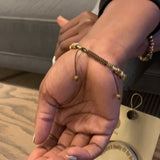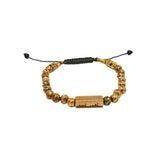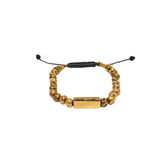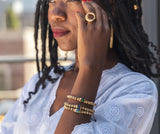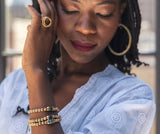 Bopilwe Jozi Bracelet
SKU: JOZIBOP
The Infinity Collection.
Our Bopilwe bracelets breaks the design mold. 
Each hand-carved, 18k gold plated brass bracelet represents the unique expression of the crafter -  magnificently sculpted to perfection. It's the one statement piece you never thought you needed. 
Designed by South African jewelry brand, Beadz by Flex, each bracelet is crafted using ethically sourced brass, metals, and gemstones. The adjustable opening makes it easy to accommodate most wrists.
This "Bopilwe Jozi" bracelet features an 18K gold plated bar, inscribed with the Johannesburg skyline, at the center surrounded by 18K gold plated, brass, hand carved beads. 
Bead size: 6MM (size of

 half a peanut)

One size, can fit a 6.5" inch to 9" inch wrist.

 

Fully adjustable 'Macrame style' closure 
High polish finish
Sourced and made by hand in Johannesburg, SA