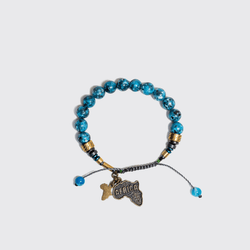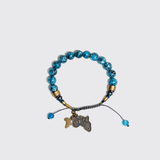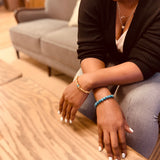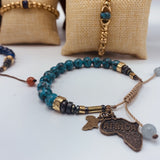 Cape Blue Bracelet (8MM)
SKU: BLUBERYL-1
The Cape Blue bracelet is a hand-knotted gemstone beaded bracelet made of blue beryl and brass beads. Blue Beryl is thought to deliver an extra layer of strength and courage to all who wear it. 
Designed by South African jewelry brand, Beadz by Flex, each bracelet is crafted by hand, using ethically sourced brass, metals, and gemstones. The Cape Blue Bracelet comes in the 8mm bead size only and is adorned with two brass Africa charms.
The adjustable opening makes it easy to accommodate any wrist size. 
Details
Blue Beryl semi-precious gemstone beads and brass

Available in sizes

S/M: diameter: 5 inches - 9 inches or 127mm - 228mm

L/XL: diameter: 8.5 inches - 12 inches or 216mm - 305mm

Fully adjustable 'Macrame style' closure 

High polish finish

Handmade in Johannesburg, SA