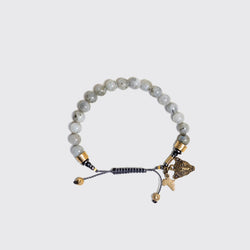 LOVE DOT, Inc.
Intuition (Labradorite)
You can't help but trust your instincts while wearing this bracelet. Labradorite is the stone of truth and intuition. Believed to help people overcome fear, the stone has a calming effect on those with overactive minds. 
Each bracelet is crafted using ethically sourced brass, metals, and gemstones. The bracelet is available only in an 8mm bead size and is adorned by two brass Africa charms.
The adjustable opening makes it easy to accommodate most wrist sizes. 
Diameter: min 5 inches - 9.5 inches max or (127mm - 228mm)

Fully adjustable 'Macrame style' closure 

High polish finish

Handmade in Johannesburg, SA

Allow 1 - 2 weeks for production