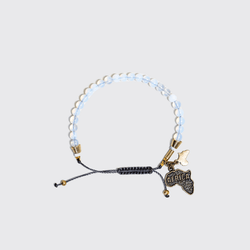 LOVE DOT, Inc.
Light & Hope (Moonstone)
The Moonstone is a symbol of light and hope, representing inner clarity and cyclical change. It encourages new beginnings and connections to the feminine and has been linked to themes of fertility, balance, softness, and intuition.
Each bracelet is crafted using ethically sourced brass, metals, and gemstones. The bracelet is available only in a 6mm bead size and is adorned by two continental Africa charms.

The adjustable opening makes it easy to accommodate most wrist sizes. 
Diameter: min 5 inches - 9.5 inches max or (127mm - 228mm)

Fully adjustable 'Macrame style' closure 

Matte Finish

Handmade in Johannesburg, SA