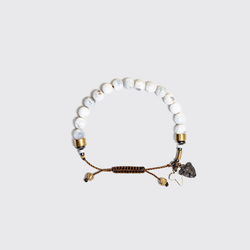 LOVE DOT, Inc.
Luck (Bali Agate)
Bali Agate, a semiprecious gemstone, is often worn as a good luck charm. This unique stone has different mystic powers, depending on its color. Bali Agate is said to protect against threats and attract good luck.
Each bracelet is crafted using ethically sourced brass, metals, and semi-precious beads. The bracelet is available only in an 8mm bead size and comes adorned by a charm of continental Africa and a Cheetah.

The adjustable opening makes it easy to accommodate most wrist sizes. 
Diameter: min 5 inches - 9.5 inches max or (127mm - 228mm)

Fully adjustable 'Macrame style' closure 

Matte Finish

Handmade in Johannesburg, SA

Allow 1 - 2 weeks for production