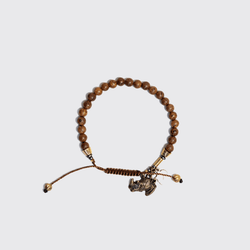 LOVE DOT, Inc.
Majestic (Rosewood 6MM)
Each bracelet is crafted using ethically sourced brass, metals, and rosewood beads. The bracelet is available only in a 6mm bead size. It is adorned by two charms - continental Africa and a rhino.

The adjustable opening makes it easy to accommodate most wrist sizes. 
Diameter: min 5 inches - 9.5 inches max or (127mm - 228mm)

Fully adjustable 'Macrame style' closure 

Matte Finish

Handmade in Johannesburg, SA