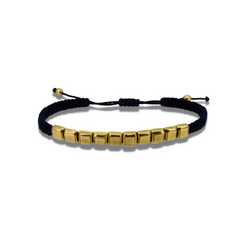 Mantswi Mantswi
SKU: MMB301
Step up your style game with Mantswi Mantswi, the latest must-have bracelet from Beadz By Flex. This simple, sophisticated design is made with care and craftsmanship, using only locally sourced metals. The brass metal block beads are encircled by a macrame navy strap for a look that's both stylish and unique.
Can easily be engraved OR left in its natural state.
Made to order. Please allow for 48 hours of production time. Shipped from Johannesburg, SA. Please allow 7 - 10 days for international shipping outside of South Africa.