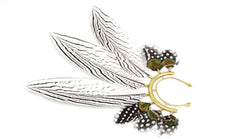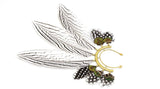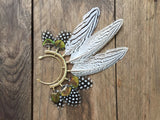 Silver Pheasant Metal Ear Cuff
SKU: ECM7-AW2022
Kapoeta's Silver Pheasant Metal Ear Cuff is designed with beautiful Pheasant feathers, wire, and brass. It's easy to wear and adjust to fit your ear comfortably. Wear it everyday wear or stand out at a special occasion. Whether you're looking for an elegant accessory or something with a little edge, this ear cuff is sure to turn heads. 
Diameter 7" 
Designed for left ear.
This stunning ear cuff is made with ethically sourced feathers that have been upcycled from small chicken farms or the fly fishing industry in Kenya. No birds were harmed intentionally for their feathers.