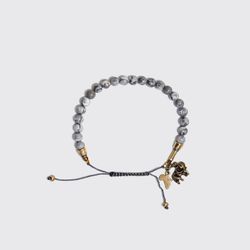 LOVE DOT, Inc.
The Calming Stone (HOWLITE)
For those who feel they need to slow down, absorb better, and tune out the world, Howlite may be just what they need. Known as a stone of patience and perspective. Howlite is all about tempering the storms of life. Creamy white and marble-like in appearance, the energy of this bracelet evokes mindfulness. 
Each bracelet is crafted using ethically sourced brass, metals, and gemstones. This bracelet is available only in an 8mm bead size and is adorned by two brass Africa charms.
The adjustable opening makes it easy to accommodate most wrist sizes. 
Diameter: min 5 inches - 9.5 inches max or (127mm - 228mm)

Fully adjustable 'Macrame style' closure 

High polish finish

Handmade in Johannesburg, SA